03

Quiéreme Mucho by Cristina Velásquez
Limited Print Edition
2021
Edition of 5 copies
Signed and numbered

Contains:
Book
Print
Hand stamped envelope
Numbered print slipcase

$250


Print
Green Studio, 2021.
Archival pigment print
Baryta paper
310 gsm
7" ✕ 5"

Book
Saddle stitch, self-cover
With limited edition obi band
32 pages
21 plates
5.5" ✕ 8"
Signed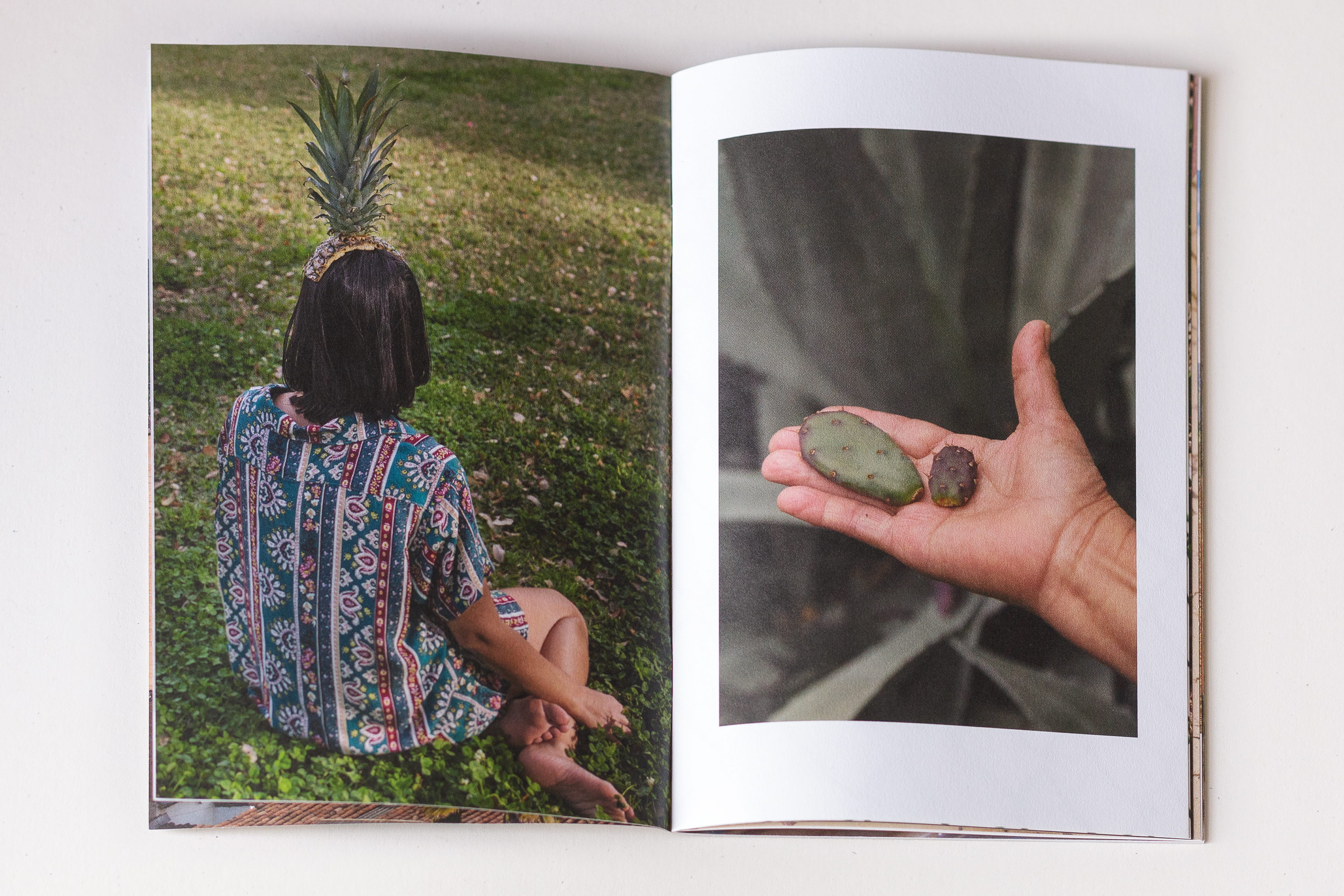 Edited by Martha Naranjo Sandoval
Designed by Aline Enríquez

Quiéreme Mucho (Love me a lot) is a selection of recent and old work by Cristina. Her image-making process consists in two moments. The first one, in which she let's herself guide by intuition to shoot the images; and the second, in which she edits and dissects the work, looking at it through a critical lens while she questions her decisions, crops the images, and examines her impulses.

"The play of power is essential to the understanding of photography. With time, I've realized that through photography, I can subvert the dominant structures of power that for years have separated people from one another. Photography allows me to wrestle with the complexities of the colonial-white-mono-narrative in my past and present, in an effort to create an alternative one in the future.

I am interested in acknowledging the subjectivities that permeate the act of representing —oneself, and the other— starting with the power imbalance inherent to the medium, that mirrors a larger system of social editing. Through photography, I have a chance to reclaim my own identity, and by doing so, complicate the visual alphabet and resist the threats of cultural assimilation, which feel very violent to me. I understand picture making as one of the most effective ways to shift narratives about who counts in the world. "—CV


Cristina Velásquez is an artist working primarily with photography and sculptural paper compositions.

Her work examines postcolonial structures of power in Latin America, such as race, gender, class, and labor distribution. She is interested in the way one culture translates another, and how inevitably, a dominant culture sanitizes and reduces the other in a subtle, and not so subtle, continuity of colonialism.

Cristina received an MFA degree in Advanced Photographic Studies from Bard College and the International Center of Photography (2017). Recent recognitions include Regeneration 4, Musée de l'Elysée, Lausanne (2020); the Light Work Artist-In-Residency program (2019); the Carol Crow Fellowship (2019); and the Kris Graves Project, Lost II Book Prize (2019). Cristina's work has been shown widely including exhibitions at Musée de l'Elysée, ICP Museum, ArtBo, MoMA PS1, International Center of Photography, Houston Center for Photography, and Society for Photographic Education, in addition to being held in private and public collections. Her monographs Viterbo (Kris Graves Projects, 2019), and Montañera (self published, 2017) have been collected by Metropolitan Museum of Art, The Getty Institute, Whitney Museum, Guggenheim Museum, Amon Carter Museum of American Art, the International Center of Photography, Syracuse University, ArtCenter College of Art and Design, School of the Art Institute of Chicago, Arcadia University, Texas State University, University of Iowa, Ryerson University and George Washington University; amongst others. Cristina lives and works between Bogotá and New York. She is currently a curator for New Poetics of Labor, and a mentor at University of Houston.